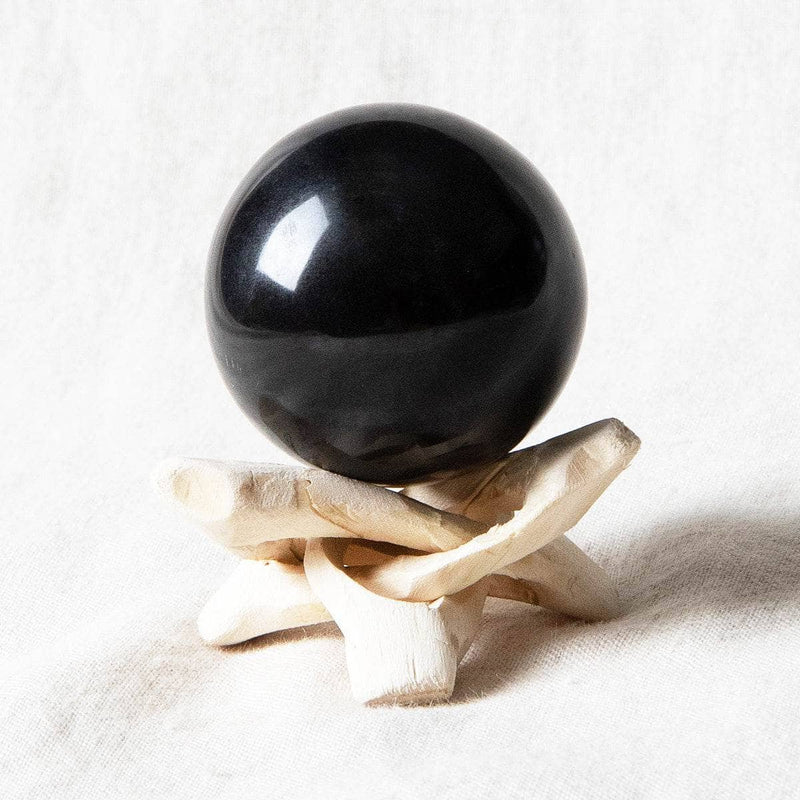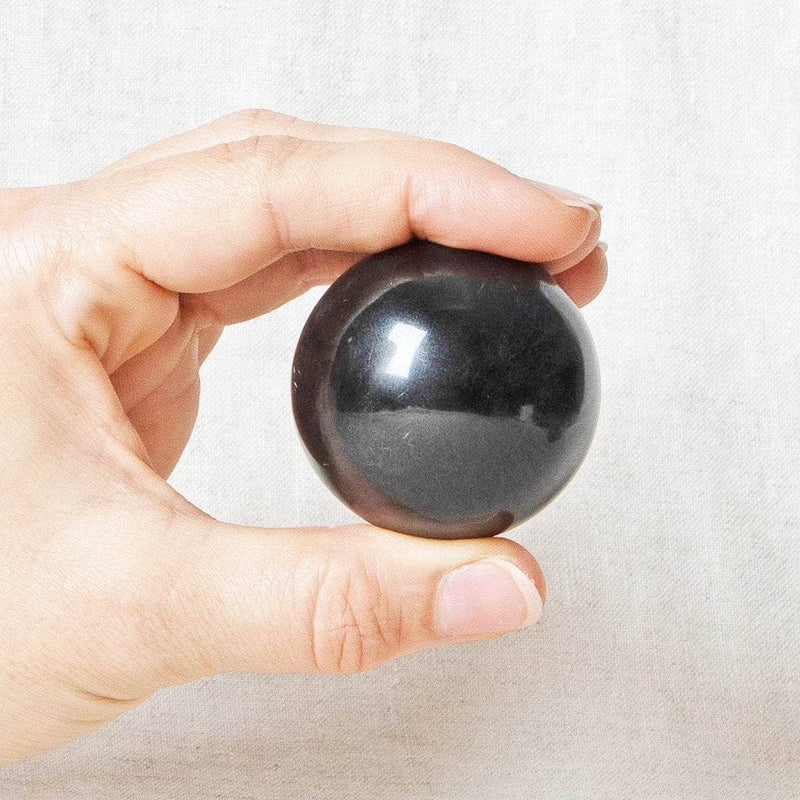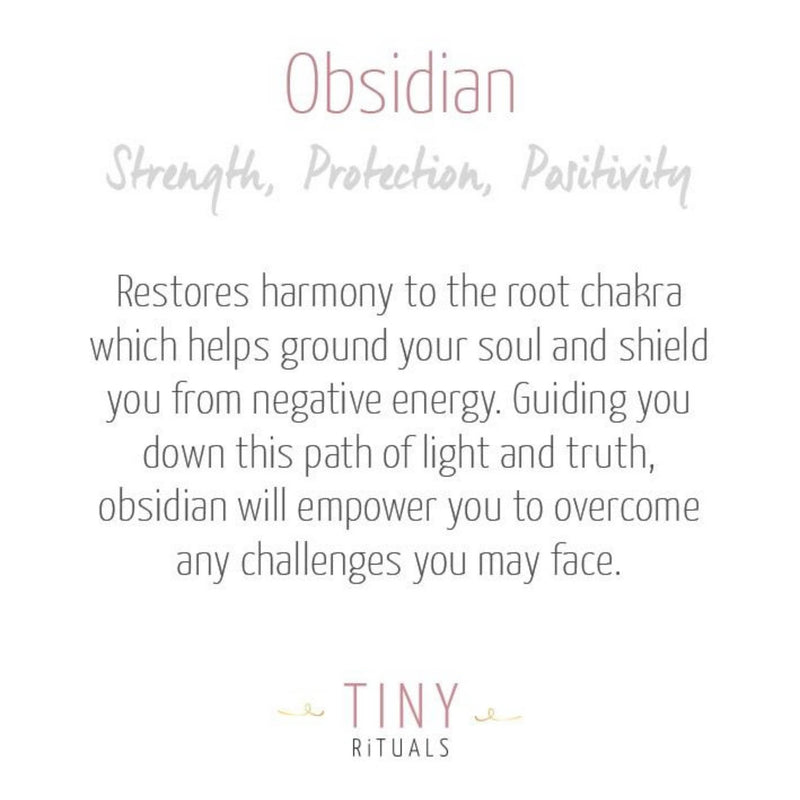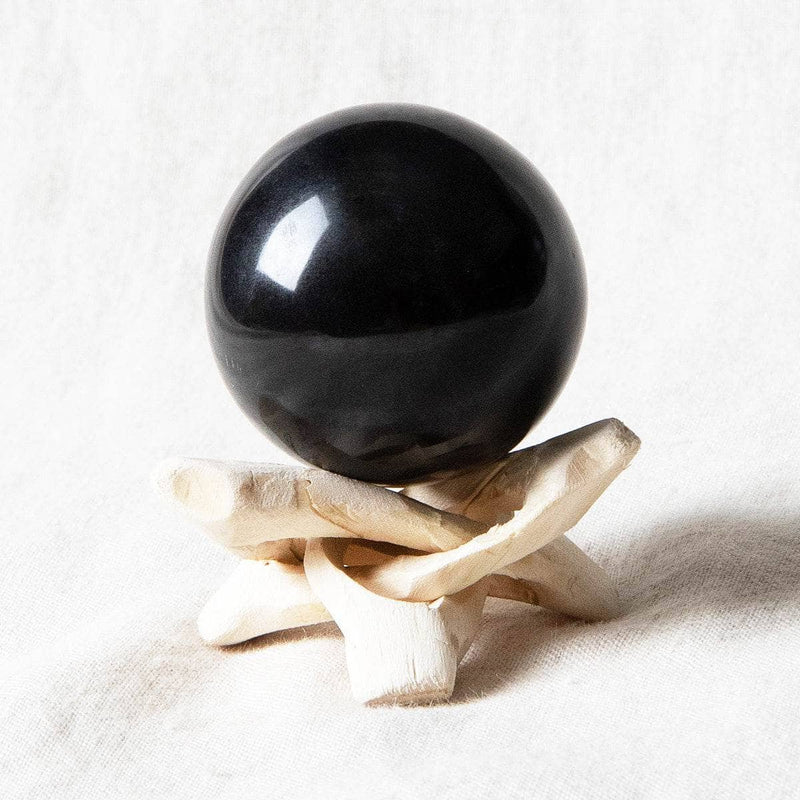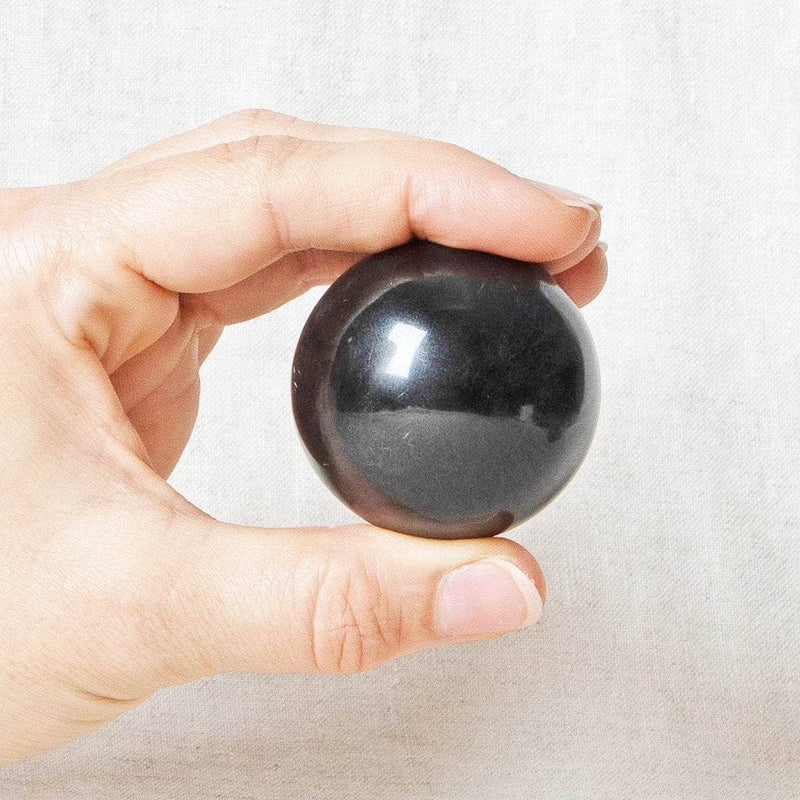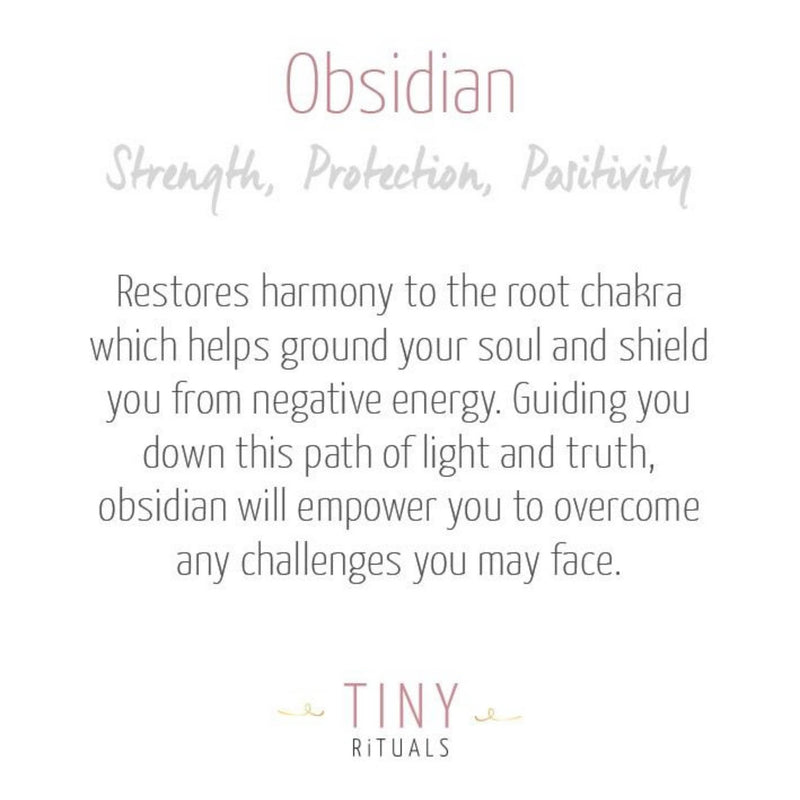 Black Obsidian Sphere with Tripod
Sold Out
BUNDLE 3 ITEMS & SAVE 25%
Free Shipping Over $95
Fast Guaranteed Delivery
One Year Warranty on Everything
Easy Returns & Exchanges
50,000 happy customers
Black Obsidian Sphere
The Obsidian Sphere brings a cloaked mystical quality to whatever space you occupy. Like a crystal ball carved from the jet dark shades of midnight, Obsidian meaning serves as a strong protector, a healer for all that feels lost, and a gorgeous grounding force for those who feel the need to be a little more tethered to their own sense of self and the world beneath their feet.
"With this sphere, I stay grounded, protected, and open to the messages the universe seeks to share"
Description
What is Black Obsidian Good For?
Smooth, polished, and utterly soothing to the touch, the Obsidian Sphere can be rolled in the palm of your hand, bringing a welcome weight, and serving as a physical tether to keep you gently weighted with both feet firmly on the ground. When you aren't holding the Obsidian Sphere close, it can be presented in a place where you want to promote even more natural protection. On the mantelpiece of your home, close to the doors, perched on windowsills, or shining on your bedside table, the Black Obsidian Sphere continually grants you that sheer comfort in knowing it is there.
How to Use the Black Obsidian Crystal Ball?
For centuries, Obsidian Spheres have been used to nurture physic connections and the practice known as Scrying. An ancient art that draws on the powers of occlumency, the Obsidian Sphere can be used to take a peek at what the universe has in store for you. Scrying comes from the ancient word meaning to dimly see or to reveal. It refers to the hidden power of tapping into our second sight by reaching an altered state and letting the energy of the universe flow right through, bringing with it prisms of pictures and words until a message forms that may bring some kind of meaning or a sense of being found into your life.
How Do You Use Obsidian for Healing?
Obsidian works like a mirror for glimpsing this future, its dark black color, volcanic glass angle, and raw energy all unite in full force to connect the root chakra with the third eye chakra. When your root chakra and third eye chakra are in full harmonic flow, you feel in a place of safety to dive deep into that inner intuition and to send those energy waves out into the world, ever ready to receive what your mind, body, and soul most need to know. Sometimes, just having this knowledge that the universe works in flux and things are ever-changing brings relief to the mind, promoting the healing potential that everything can change and kicking against the flow will only lead to exhaustion. The Black Obsidian Sphere invites you to enjoy the ride.
What Are the Characteristics of Obsidian?
The sphere is an excellent tool to turn to when you just want to cut through the noise and get to the dark heart of the matter. While some may feel turned away by the intensity that the Black Obsidian stone can bring, you may prefer the gentler guiding nature of the Snowflake Obsidian with its pure branching patterns and soothing shoots of white against the darker hues. The Black Obsidian Sphere is one of the best healing crystals you can own if you want to deeply commit to uniting the body and spirit and bringing positive change into focus. From scrying to meditation, or even just the grounding weight of holding it close to hand, having this Obsidian rock well within home reach brings a new sense of purpose to your space, offering natural protection and helping you to feel covered whether stepping in or out of the door.
Details
Unique and genuine Obsidian gemstone
Approx. 30mm-40mm
Color, shape, and markings will vary
Comes with a description card
Product Code:
Our Cause
With each purchase, you're providing children and their nursing mothers with adequate amounts of Vitamin A to protect them from VADD. Vitamin A Deficiency Disorder (VADD) is the number one cause of childhood blindness and a major cause of childhood death. Over 20 million children in India are at risk of having this preventable disease.
Returns
We know that you will love what you ordered but if something doesn't work out, we will gladly accept unwanted or defective merchandise for return or exchange within 30 days from the shipping date. Unless the item is defective, you will be responsible for shipping costs to send the item back to us. "Final Sale" means the specified items are not eligible for return or exchange. Items purchased outside of the United States are not eligible for returns due to customs issues.
Read our full return policy here.
GUARANTEED GEMSTONE AUTHENTICITY
SUSTAINABLE & GLOBALLY SOURCED
UNIQUE BENEFITS & POSITIVE INTENTIONS
ONE YEAR WARRANTY ON ALL PRODUCTS
Customer Reviews
Black sphere

It definitely helps me stay calm.

Gil T.

Verified Buyer

12/20/21

Black beauty

Beautiful piece and more substantial than expected. Love rolling it in my hands.

Sanya W.

Verified Buyer

9/29/21

Kayla F.

Verified Buyer

7/8/21

Beautiful

It was much bigger than I had imagined but it's absolutely beautiful

Talitha J.

Verified Buyer

7/6/21

Not what I expected

perhaps it's written in the description and I missed it, but this sphere is much smaller and lighter weight than I expected it to be for $30. I meant this to be a gift for someone, and when I received it, I considered returning it because it is not as solid and weighty as what I intended to give. But I would not repurchase this or any sphere from this site if they are all this size and weight for that price.

TR

Tiny Rituals

7/6/21

Thank you so much for your review and feedback! Our number one goal is for customers to be 100% happy with their orders. :) If you decide to return this item, all you need is your order number and shipping zip code. When you have those handy, click this link to start: exchanges.tinyrituals.co/#/
Reviews Loaded
Reviews Added