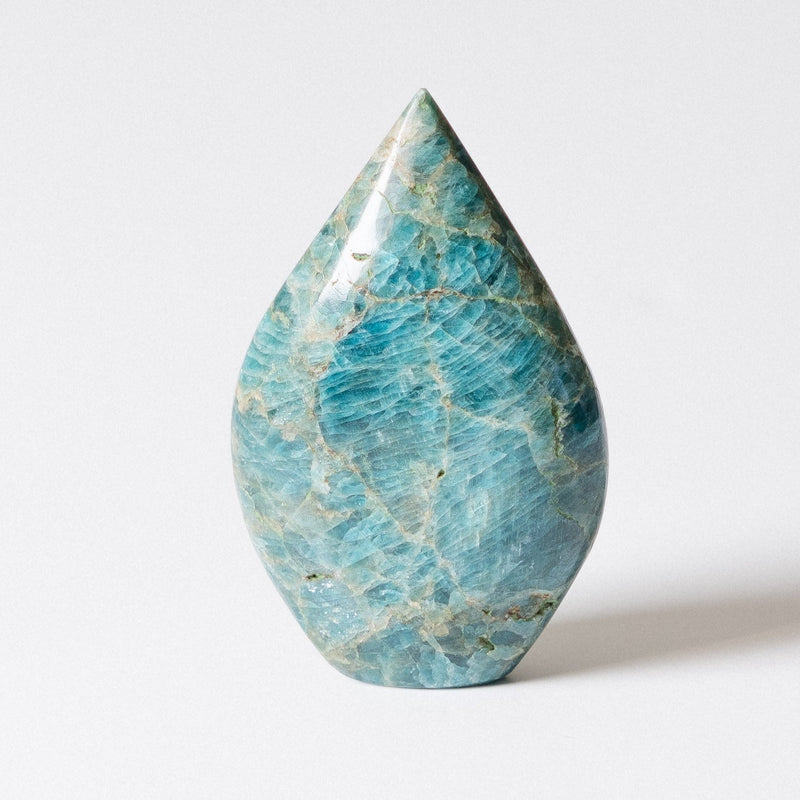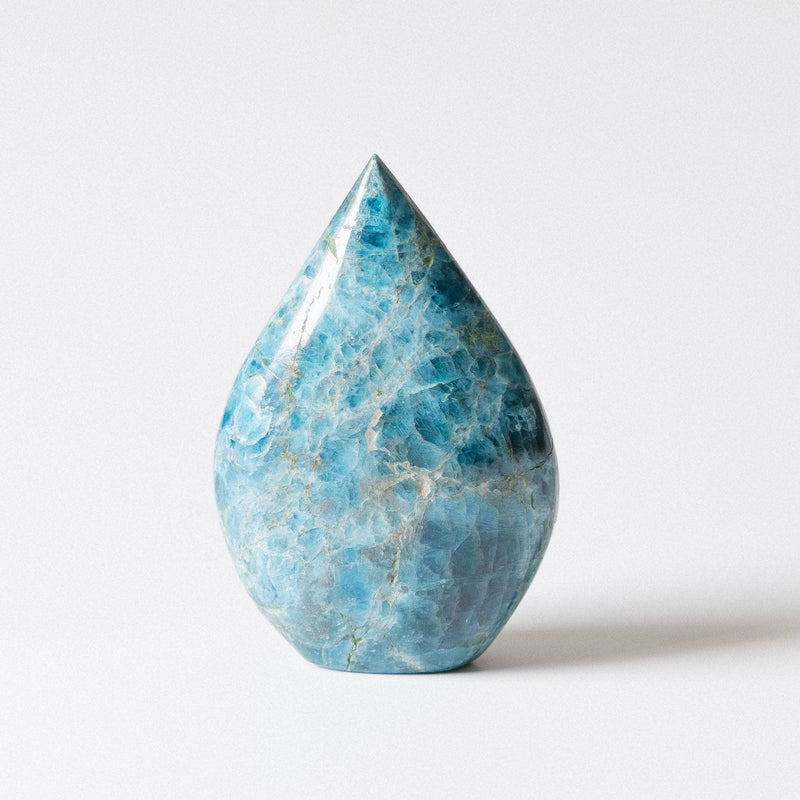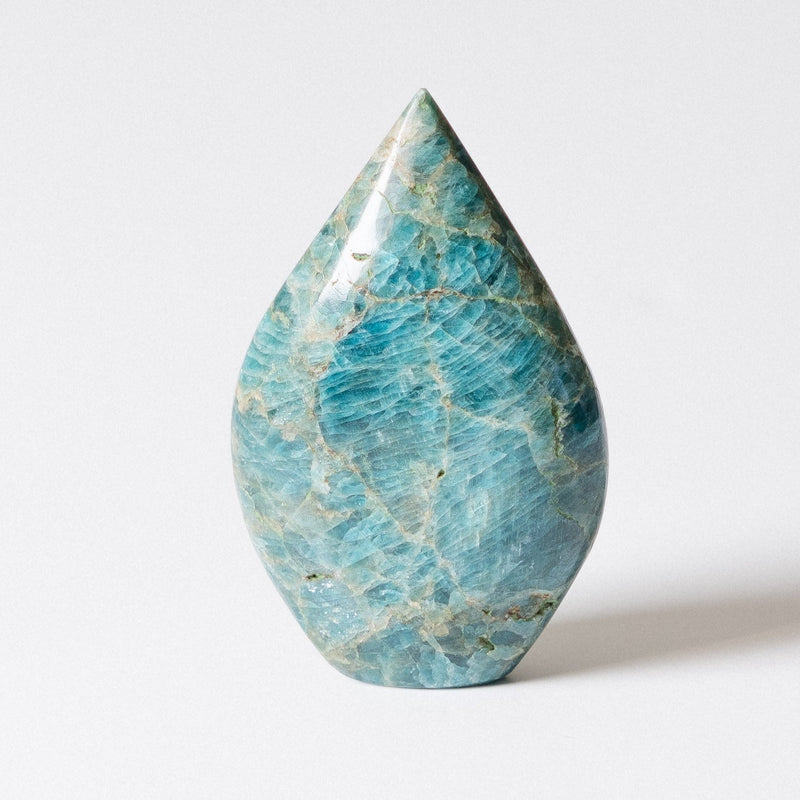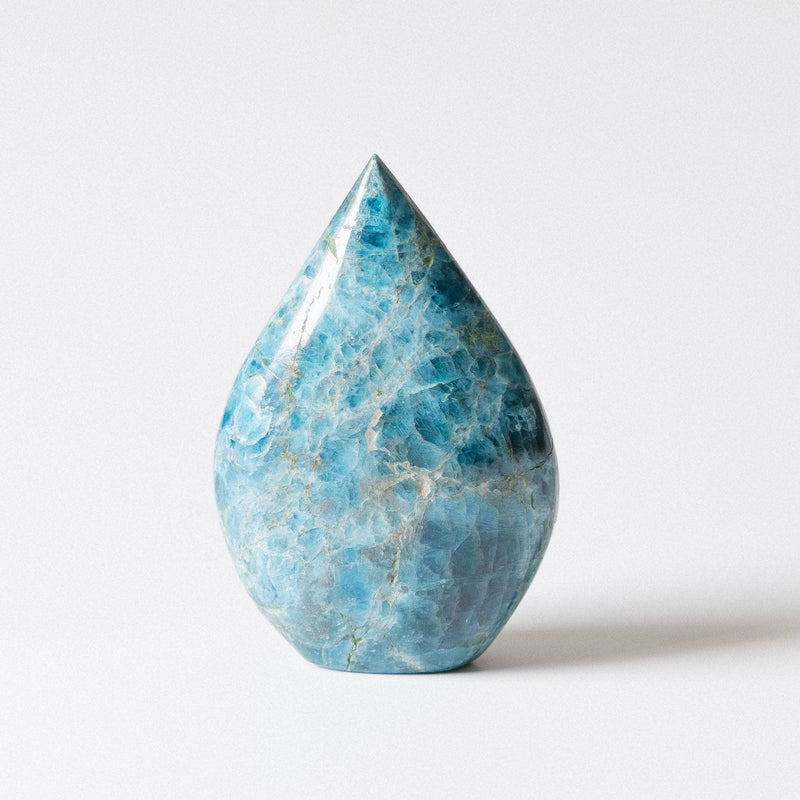 Apatite Freeform Crystal
$78.00
BUNDLE 3 ITEMS & SAVE 25%
Free Shipping Over $95
Fast Guaranteed Delivery
One Year Warranty on Everything
Easy Returns & Exchanges
50,000 happy customers
Apatite Freeform Crystal
Beautiful in blue, the Apatite Freeform Crystal comes in radiant color and is ever ready to soothe tattered souls. Known for being a throat chakra stone with flowing energy, this unique freeform crystal is a stone of deep sensory healing. Let Apatite bring you back from the brink and into a beautiful, clear mindset.
"With this crystal, I spark ideas, speak my truth, and manifest my desires."
Description
The Apatite Freeform Crystal is as cool as it comes. Known as the stone of manifestation, there's plenty of power murmuring beneath the blue. Radiant with positive energy and ever-ready to strengthen the body and the mind, the meaning of Apatite is all safety, sanctuary, and soft ease but in a way that doesn't lead to passivity. Instead, this stone teaches you how to awaken your creativity and project your personal power in the ways that serve you best.
Apatite is a throat chakra stone that helps clear any blockages in this area. When our throat chakra is open and clear, we are well-equipped to share our truth with the world and to express ourselves without fear. By elevating our voice, we can reach deeper parts of ourselves without vulnerability, which also works in the fork of creative expression and art.
The Apatite crystal can be used in a myriad of ways to heighten your life experience. In meditation, it can still those chattering voices and cut through self-criticism - ultimately making you kinder and more welcoming to yourself. Keeping it in a creative space will spark ideas and the energy of manifestation - helping you become a magnet for all you desire. Carrying it close will also ensure that you never silence your own voice but cultivate inner bravery to open up and speak your mind. In love with Apatite? Check out our Apatite Worry Stone and our Apatite Heart.
Details
Genuine Apatite Crystals comes in 2 sizes
Measurements Length x Width x Height
Apatite #2-Small - 2 x .5 x 3.5 inches. Weight approx .5-.75 lb.
Apatite #1-Medium - 2.5-3 x .5 x 3.5-4 inches. Weight approx .7-1 lb.
Color and Shapes will vary slightly
Comes with description card
Made in India with Love
Product Code:
Our Cause
With each purchase, you're providing children and their nursing mothers with adequate amounts of Vitamin A to protect them from VADD. Vitamin A Deficiency Disorder (VADD) is the number one cause of childhood blindness and a major cause of childhood death. Over 20 million children in India are at risk of having this preventable disease.
Returns
We know that you will love what you ordered but if something doesn't work out, we will gladly accept unwanted or defective merchandise for return or exchange within 30 days from the shipping date. Unless the item is defective, you will be responsible for shipping costs to send the item back to us. "Final Sale" means the specified items are not eligible for return or exchange. Items purchased outside of the United States are not eligible for returns due to customs issues.
Read our full return policy here.
GUARANTEED GEMSTONE AUTHENTICITY
SUSTAINABLE & GLOBALLY SOURCED
UNIQUE BENEFITS & POSITIVE INTENTIONS
ONE YEAR WARRANTY ON ALL PRODUCTS