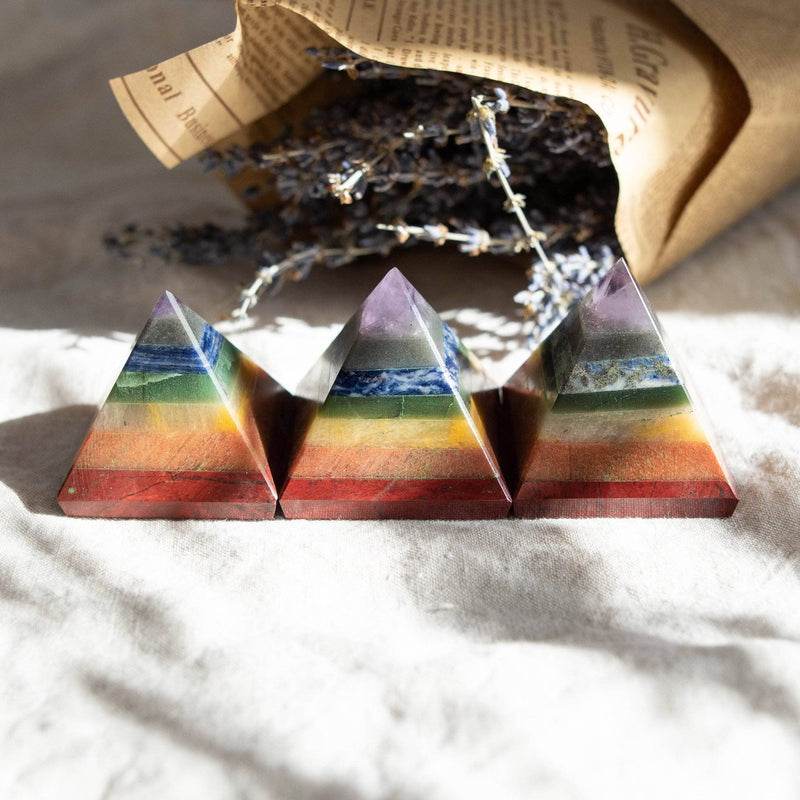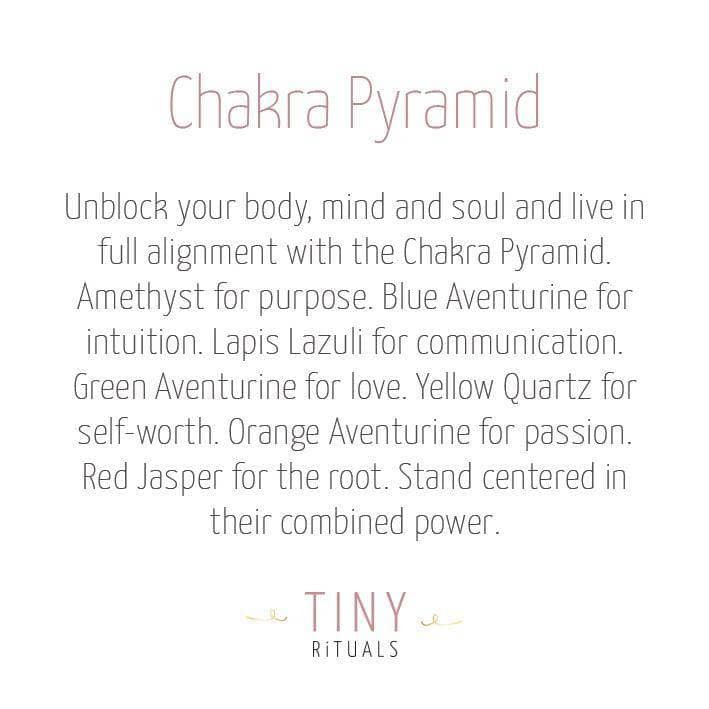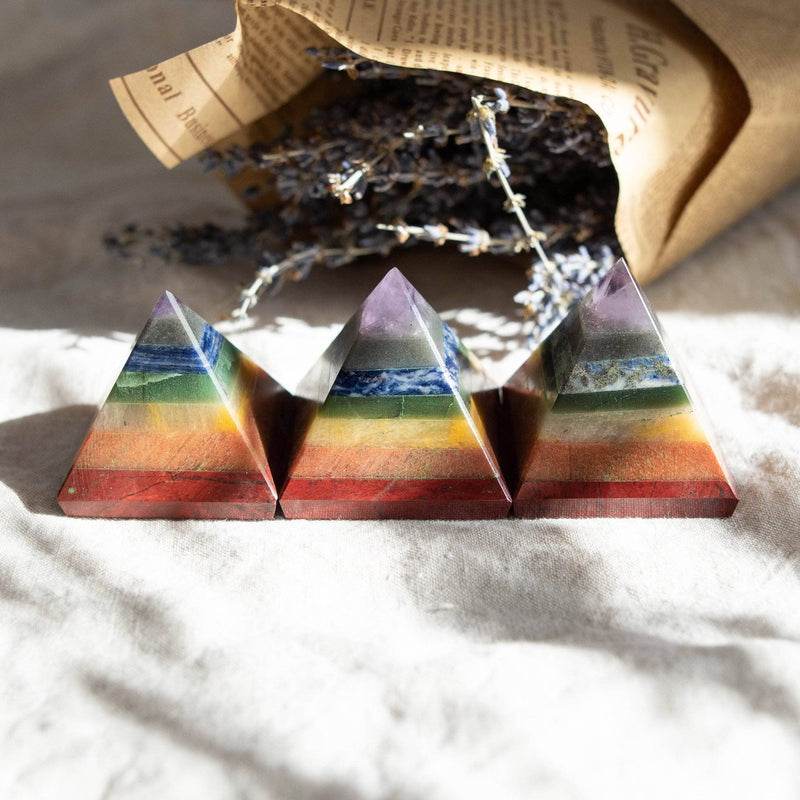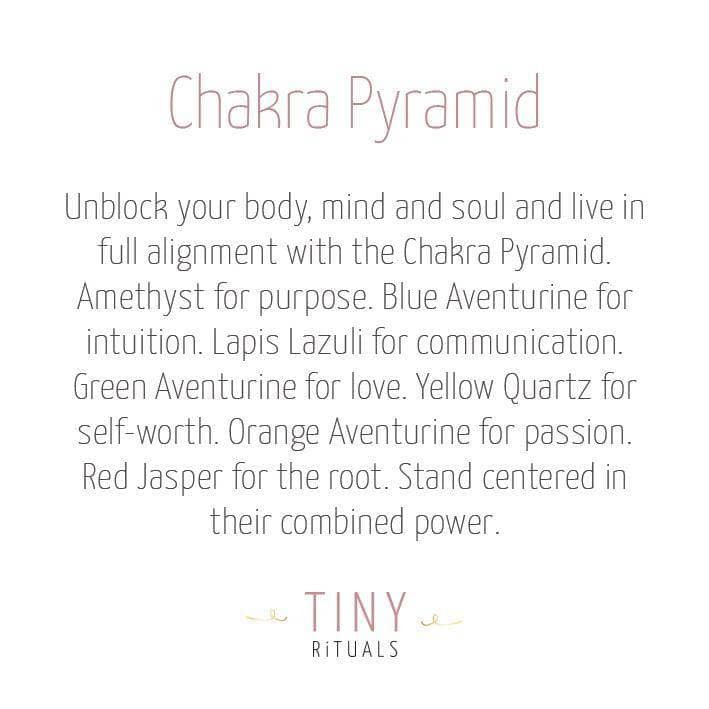 Chakra Pyramid
$68.00
BUNDLE ANY 3 ITEMS & SAVE 20%
Free Shipping Over $95
Fast Guaranteed Delivery
One Year Warranty on Everything
Easy Returns & Exchanges
50,000 happy customers
Chakra Pyramid
What is a chakra pyramid? It's the best kind of crystal therapy for those who want to sync up their energy and call on the colors of the chakras. Combining the sacred geometry of the pyramid to the shades of the body's seven healing points, the Chakra Pyramid clears blockages, cements you in your power, and makes sure that you are ready to unlock your full potential.
"With this pyramid, I create a clear channel where earthly wisdom meets celestial light"
Description
The Chakra Pyramid is here to light you right up from tip to toe. For those who want to stir up their life force, clear out blockages, and bring in a sweeping sense of wholeness that never leaves, these seven-layered crystals forged in the sacred pyramid shape form a solid foundation that tethers to the heavens.
Amethyst for the crown chakra, that shimmering light that forges a bridge between us and the universe, welcoming in the promise of our higher purpose.
Blue Aventurine for the third eye, the home of our infinite wisdom and the invitation to look deep inside our souls.
Lapis Lazuli for the throat chakra, the bird that flutters in our throat, ever ready to spread her wings and sing. This chakra is all about truth and connecting via the beauty of authentic communication.
Green Aventurine for the heart chakra, the drum that beats in our chest. This chakra is all about trust, compassion, and growing our capacity for unconditional love.
Yellow Quartz for the solar plexus, the lighthouse of our self-confidence, sending golden rays of healing out and keeping the fire of our chi burning bright.
Orange Aventurine for the sacral chakra, the pearl of our sublime sexuality. This is where our creativity stirs and where our passion starts to stir.
Red Jasper for the root chakra, the great trunk that holds our tree in place. When our root chakra is solid and sprawling it gives a sense of safety and allows our other branches of being to reach high.
Together, these seven shades bring crystal healing and keep all that glorious energy flowing in effortless alignment.
Details
Unique and genuine gemstones: Amethyst, Blue Aventurine, Lapis Lazuli, Green Aventurine, Yellow Quartz, Orange Aventurine, Red Jasper
Approx. 1.5-2" base and 1.5-2" height
Color, shape, size, and markings will vary
Comes with a description card
Product Code:
Our Cause
With each purchase, you're providing children and their nursing mothers with adequate amounts of Vitamin A to protect them from VADD. Vitamin A Deficiency Disorder (VADD) is the number one cause of childhood blindness and a major cause of childhood death. Over 20 million children in India are at risk of having this preventable disease.
Returns
We know that you will love what you ordered but if something doesn't work out, we will gladly accept unwanted or defective merchandise for return or exchange within 30 days from the shipping date. Unless the item is defective, you will be responsible for shipping costs to send the item back to us. "Final Sale" means the specified items are not eligible for return or exchange. Items purchased outside of the United States are not eligible for returns due to customs issues.
Read our full return policy here.
GUARANTEED GEMSTONE AUTHENTICITY
SUSTAINABLE & GLOBALLY SOURCED
UNIQUE BENEFITS & POSITIVE INTENTIONS
ONE YEAR WARRANTY ON ALL PRODUCTS
Customer Reviews
Beautiful item

This may be a gift or it may be a keeper. Love the meaning and colors. Craftsmanship is impeccable. Thank you for the explanation cards that came with all pieces.

Susan C.

Verified Buyer

6/29/21

Chakra Pyramid

Purchased the Chakra Pyramid. Wish it was larger. Nice quality though. Just small.

Cassandra W.

Verified Buyer

5/15/21

Egyptian Beauty

This one I have in the middle of my living room for balance in the entire house.

Velina U.

Verified Buyer

5/15/21

Very pretty

This is small but very nice In my opinion expensive

Maris U.

Verified Buyer

4/12/21

Love the colorful pyramid!

My grandson collects stones and I decided to give him this for his First Communion and write a note combining all the colorful people in the world and how they are loved equally...Each stone has a unique gift as does each person in this world, pointing up to everyone who holds it in their hand. Everyone deserves Love...Amen
Reviews Loaded
Reviews Added